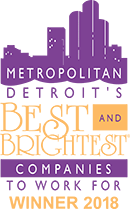 Brightline Technologies, Inc. Has Been Named One Of Metro Detroit's Best and Brightest Companies To Work For In 2018!
Brightline Technologies Wins Award
The Best and Brightest Companies to Work For is a program of the Michigan Business and Professional Association. Their slogan is Better Business. Richer Lives. Stronger Communities. It is their focus to find companies in Michigan who evolve that slogan. Brightline Technologies is one of them, and are proud to be chosen for this award along with the other many great companies to work for in Metro Detroit.
Here at Brightline Technologies, our staff are complex thinkers and problem solvers. Our employees like to look at technical systems like a puzzle and improve that system in order to make it more organized and strong. These are qualities that we instill in our staff in order to make sure our company is in line to help the community and local businesses succeed by having the right technology they need to conduct everyday tasks. 
Our list of services include Privacy and Compliance which allows companies to comply with industry standards and our dedication provides focus in order to deliver the correct technical and technological solutions to ensure that you, and your clients data stays private. Security plays a wide role in our technical services that keeps us challenged to stay ahead of the virus, or hacker attack. Our main goal is to keep your sensitive data safe. 
IT is a very creative field that allows us to work with clients who present us with complex problems that our employees need to solve. We rely on industry standards and hire high-level thinking problem solvers. Brightline Technologies is always looking to expand and add talent to its team. If you would like to join one of Metro Detroit's Best and Brightest Companies to Work For in 2018, please visit our careers page.
To learn more about Brightline Technologies and Best and Brightest Companies to Work For in 2018 please check out our press release. 
Five Places Where IT
is Losing you Money
Learn how your current IT solutions could be costing you money – and how to prevent it.
Download the whitepaper now!